GLS - for fast and secure goods dispatch in consumer goods logistics.
Thanks to many years of experience in shipping goods, we ensure that your customers' wishes arrive safely and quickly with a seamless delivery process throughout Europe.
Consumer goods logistics with GLS: customised service for your goods shipment

Europe's markets are growing ever closer together. As a result, your shipping of consumer goods no longer knows national borders. Gaps in the supply chain lead to many unwanted challenges that can reduce your success and, most importantly, reduce customer satisfaction. To prevent this, service from a single source is crucial. With GLS, you get a strong and experienced partner at your side who handles your goods shipments quickly and securely. Since both you and we put the customer first, we make every effort to be available to you at all times. With our consumer goods logistics, you therefore have a fixed contact person throughout Europe. With the largest parcel network in Europe, we can deliver your goods in 1, 2 or 3 days as standard, even at busy times. No matter what kind of goods you want to send - with GLS you get individual shipping solutions that will delight you and your customers. Contact us today and see for yourself!
Sustainable shipping
With us, you send your parcels sustainably. In this way, you not only make a simple contribution to environmental protection, but also ensure greater customer loyalty with your lived commitment to sustainable parcel shipping. Learn more about our sustainable parcel shipping here.
Take your chance and benefit from many advantages and become GLS business customer
Regardless of whether you are a large shipper with several thousand parcels per year or a frequent shipper with 250 annual parcels or more - GLS has the right solution for every business customer! If your shipping volume is less than 250 parcels per year, you can use our private shipping solutions and frank your parcels directly online.
In order to prepare an offer tailored to your needs, we need some information from you. Therefore, please fill out the following form. We will then contact you as soon as possible.
We look forward to welcoming you as a GLS business customer soon!
Flexible returns solutions
Short standard delivery times: within 24 hours
Satisfied consignees through a wide range of delivery options
Find the right solution for your business with GLS
Individual delivery for higher customer satisfaction
Beim In B2C shipping, it is important to cater to the different needs of the recipients in order to always satisfy them. That's why we offer you various services that cover the different requirements of customers: If you need something particularly fast, GLS offers Express Services, the Guaranteed24Service and GLS SameDay. Would you like to send a parcel directly to a specific department in an office? Then our DeliveryAtWorkService is the right choice for you. Is it important that only a specific person can receive the parcel? Then use the IdentService , for example. Still haven't found what you're looking for? You can find more services below:
ShopDeliveryService
ShopDeliveryService
Direct delivery to a GLS ParcelShop
FlexDeliveryService
FlexDeliveryService
GLS notifies your consignee about the planned delivery and offers a variety of delivery options.
Guaranteed24Service
Guaranteed24Service
Guaranteed delivery on the next working day (except Saturdays) – all over Germany.
LetterboxService
LetterboxService
On request, GLS will make a direct letterbox delivery without a signature from the consignee.
Returns solutions
Returns solutions
Individual and appropriate for your business: assertive, restrictive, concealed or prominent - the choice is yours!
DeliveryAtWorkService
DeliveryAtWorkService
GLS will deliver direct to a department, office or a person.
IdentPINService
IdentPINService
Parcel handover to a specific person in exchange for the PIN number.
IdentService
IdentService
Parcel handover to the specified person only after successful proof of identity.
GLS SameDay
GLS SameDay
Delivery to the customer on the same evening during a fixed period between 5.30 pm and 10 pm.
Express-Services
Express-Services
Optimise your express shipping with numerous bookable services for precisely timed delivery.

As a GLS business customer, you benefit from many advantages:
National shipping: 24h standard delivery times
Large network of ParcelShops - also international
Customised returns solutions
Own network with 21 own companies for fast delivery incl. shipment tracking - Europe-wide
Modern IT solutions for efficient processes
Full transparency and flexibility
Our tip for you: Expand
your fashion or electronics store
with a GLS ParcelShop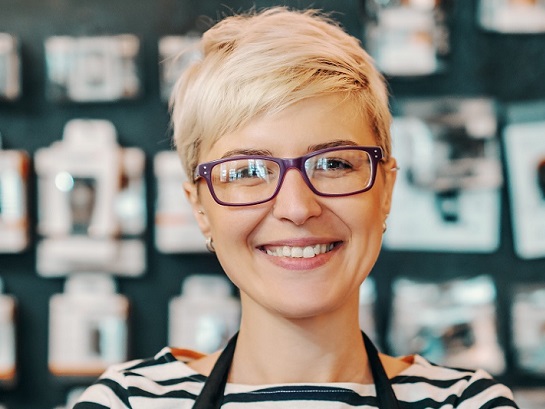 Get online shoppers into your retail shop too!
Online retail has been experiencing constant growth for years. With a GLS ParcelShop, you create the link between your shop and online business.


Additional income
Customer loyalty
Increased frequency
No risik
Latest technology
Sustainable dispatch