The export of goods to countries that are not part of the European Union (e.g. Switzerland) requires customs clearance. GLS offers for this purpose simple customs data entry via the Customs Portal and the Customs Interface.
Customs data collection made easy
Customs-related data must preferably be available to GLS in electronic form (via the Customs Portal or the Customs Interface) during pickup, but at the latest when the parcel is processed in the dispatch depot. If the data is delayed in reaching us, lead time delays in the export process may occur.
Besides the pure customs data also export related documents, especially commercial invoice and export declaration, can be provided electronically via the Customs Portal or the Customs Interface.
GLS Customs Portal
Required customs data for parcel shipments to non-EU countries must be entered via the Customs Portal or can be uploaded as documents (possible formats: CSV, XML, XLSX), to ensure a smooth outbound and inbound customs clearance.
The Customs Portal can be accessed here: gls-customs-portal.next.aeb.com/portal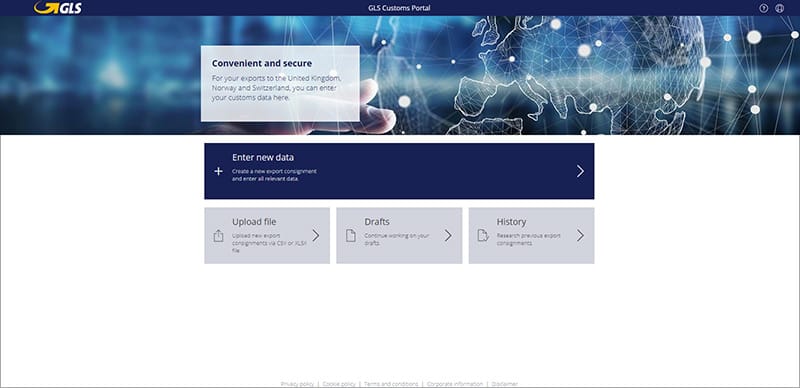 Please login with your credentials, that you have received from GLS. You have not received any login data? Please contact us This email address is being protected from spambots. You need JavaScript enabled to view it..
GLS Customs Interface
Besides the possibility to manually enter data via the Customs Portal, it is possible to transmit the customs data and related export documents via an interface (API). GLS is offering an automated programming interface in the form of a REST-API which can be accessed via Internet. You will find all information in regards to the GLS Customs Interface in the GLS Developer Portal for customers and partners.
As a GLS customer, you can log in to the GLS Developer Portal by self-registration.
Additional information
Additional informationen about the Customs Portal and the Customs Interface can be found in the customer information in our downloads section.