Our diesel and energy surcharge: always up to date
Like all transport companies, we also charge a variable energy surcharge. Here you can find out where the percentage currently lies - always based on the publications of the monthly price index of the Federal Statistical Office.
Energy surcharge: updated monthly, shown separately

We calculate a percentage surcharge in order to incorporate current fluctuations in energy prices (diesel, electricity and gas) into our transport costs in a fair and transparent manner. We base this on the diesel motorist price index and the producer prices for commercial natural gas and special contract customer electricity, which are published monthly by the Federal Statistical Office.
After the respective index publication, we determine the current percentage and use it for newly created invoices from this point on. This item is shown separately as "Energy".
The currently valid percentage is 26.50%.
This is the average composition of our energy mix at present: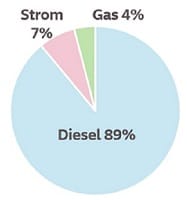 An overview of the energy surcharge over the last few months
| Valid for invoices as of... | Surcharge (%) |
| --- | --- |
| 08.11.2023 | 26.50 |
| 11.10.2023 | 26.50 |
| 08.09.2023 | 25.00 |
| 09.08.2023 | 22.50 |
| 11.07.2023 | 21.00 |

GLS reserves the right to change the reference value of the 'Energy' without prior notice and to decide on the amount and duration of the surcharge.