Climate Protect | Sustainable shipping with GLS
With our GLS Climate Protect strategy, you can avoid and reduce negative environmental impacts when sending parcels and invest in climate protection projects with us.
Send climate-neutral with us!
Sustainable shipping with GLS - always on board for business customers

The environment and the climate need our protection and it is also becoming increasingly important in business to act in an environmentally conscious manner. Your customers expect you to act sustainably, and your company should certainly live up to this expectation as well. So use a parcel shipping provider that has proven to act in an ecologically and socially responsible manner. Sustainable parcel shipping with GLS exhibits a balanced carbon footprint in Germany and abroad and becomes climate-neutral by compensation of all upstream and downstream greenhouse gas emissions not yet avoided via certified climate protection projects.
Find out here how GLS implements this and how you benefit as a business customer!


Sustainable parcel shipping in just 3 steps:
With us you don't have to book sustainable shipping separately, because with GLS sustainability is included! This means for you: As a GLS business customer, you make your contribution to climate protection and ship your products sustainably with GLS Climate Protect.
Fill out business customer form
1
Become a GLS business customer
2
Send parcels sustainable
3


Sustainable shipping - these are your advantages!
If you pay attention to environmental friendliness when sending parcels, this not only has a positive effect on the climate, but also on your business. As a GLS business customer, you can benefit from the following advantages:
Contribution to climate protection: with sustainable shipping through GLS Climate Protect, you effectively contribute to climate protection.
No additional effort: as a GLS business customer, you can send your parcels sustainably with GLS Climate Protect at any time - no additional effort required!
Verifiable certificate: with the official compensation certificates of our international partner, you can prove your contribution to climate protection every year.
Positive public image: as a responsible company that contributes to climate protection, you reach completely new target groups.
Long-term customer loyalty: Through your contribution to climate protection, your current customers will also continue to remain loyal to you.
Employer attraction: through your sustainable actions, you attract and retain potential employees.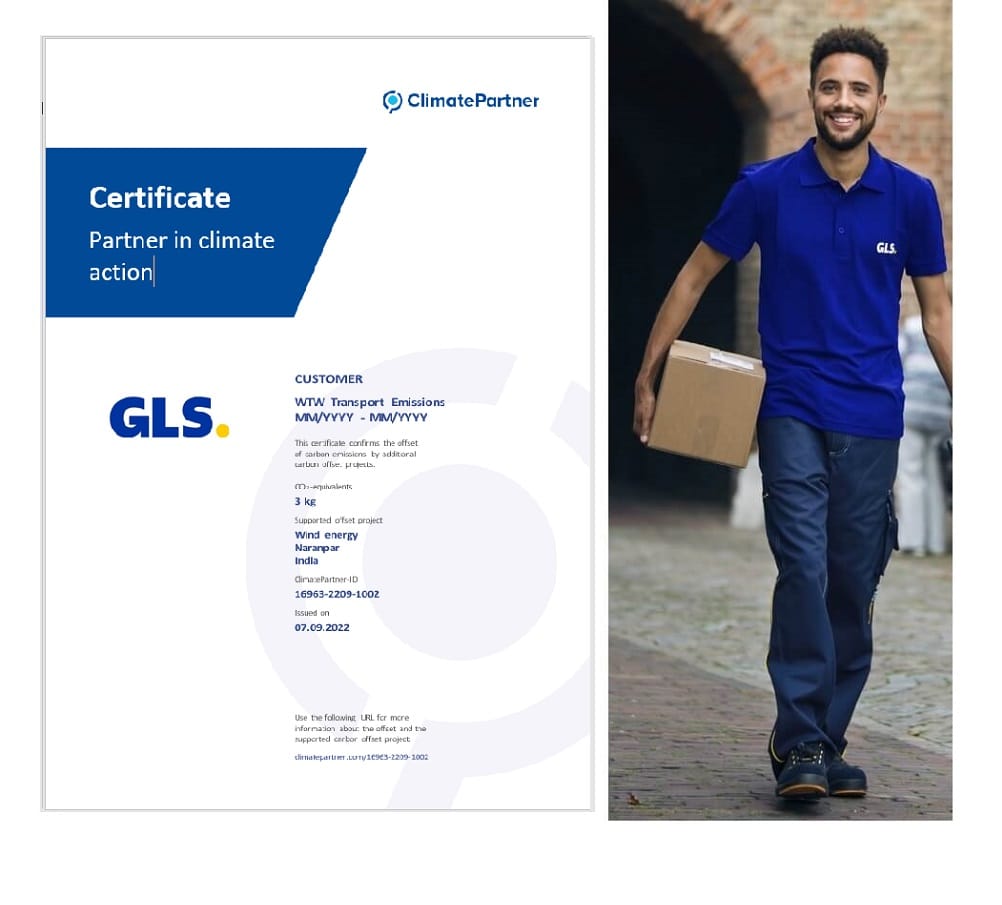 How does GLS implement sustainable shipping?
Our GLS Climate Protect strategy focuses on a wide range of investments in all areas of the company, including energy efficiency, the use of renewable energies and the avoidance and compensation of negative environmental impacts. A central component is the sustainable parcel shipping of our business and private customers.
Depots and infrastructure: We explicitly consider ecological and social aspects in all new buildings, replacements and extensions. For environmentally friendly equipment, we invest on a broad scale in modern, environmentally friendly techniques. The use of rainwater, photovoltaics, recyclable building materials, heat pumps as well as efficient lighting technology and thermally insulated buildings play an important role. In all GLS Germany locations we use 100% green electricity from renewable energy sources.
Transitioning the vehicle fleet towards eMobility: We aim to gradually switch the entire fleet to zero-emission and low-emission vehicles – our transport partners' fleet as well as our own company car fleet. Moreover, we establish the necessary charging infrastructure in our depots for the continuous electric vehicles transition.
Local micro depots: In order to optimize transport processes in city logistics and to promote emission-free delivery in city centers, we are setting up micro depots. From here, emission-free e-vehicles go on delivery tours. This saves transport routes, reduces noise and thus protects people and the environment.
Minimizing transport routes: To improve operating processes and transport routes, we count on state-of-the-art, IT-assisted planning instruments. This is how we manage to systematically minimize our transport routes and thus to avoid greenhouse gas emissions.



Have we aroused your interest?
Then arrange a callback right now or fill out our "business customer form".
Request a quote
We need some information from you so that we are able to provide you with a tailored offer. Therefore, please fill out our business customer form.
Request advice
You are not yet quite sure which services are fitting best for your company and would like to have a personal conversation right from the start? Then arrange a non-binding callback directly.
Did you know? ParcelShops help to reduce emissions!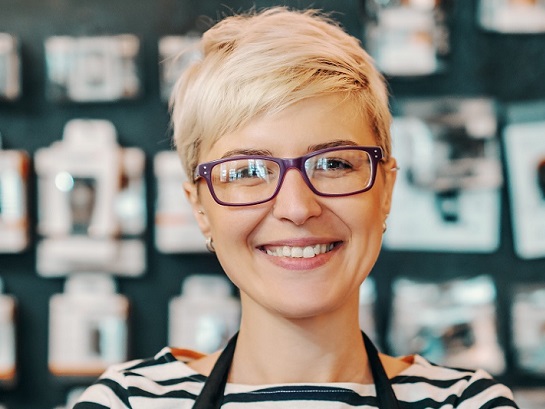 How? Simply open a GLS ParcelShop!
By doing so, you offer online shoppers the opportunity to pick up their parcels in their immediate vicinity, e.g. in the event of an unsuccessful delivery or to specify it as a pick-up address in advance. This means that a delivery attempt at the front door is not necessary in advance, which saves travel and emissions.


Additional income
Customer loyalty
Increased frequency
No risik
Latest technology
Sustainable shipping